Notice that this blog post was first published in German roughly seven years ago. You can find the original version here. I slightly adapted some parts.
Showering, doing the laundry and sleeping in a bed. Things that might seem normal to most. If you are a Scout during July and August, these things are not a given at all. Because these months make up summer camp season – at least in the Northern Hemisphere. For instance I just came back from Croatia where I had a blast with my group of 16- to 20 year old Ranger and Rover scouts.
But every 4 years, the World Organization of the Scout Movement holds a very special event. A World Scout Jamboree (WSJ). 2015 I had the privilege to attend the 23rd WSJ in Kirara-Hama in the Yamaguchi prefecture in the South of Japan. Roughly 34.000 Scouts from 153 countries and regions all across the globe made their way to Japan. I was one of about 8000 so called ISTs. The International Service Team is in charge that 26.000 scouts may experience a smooth 10 days at the WSJ.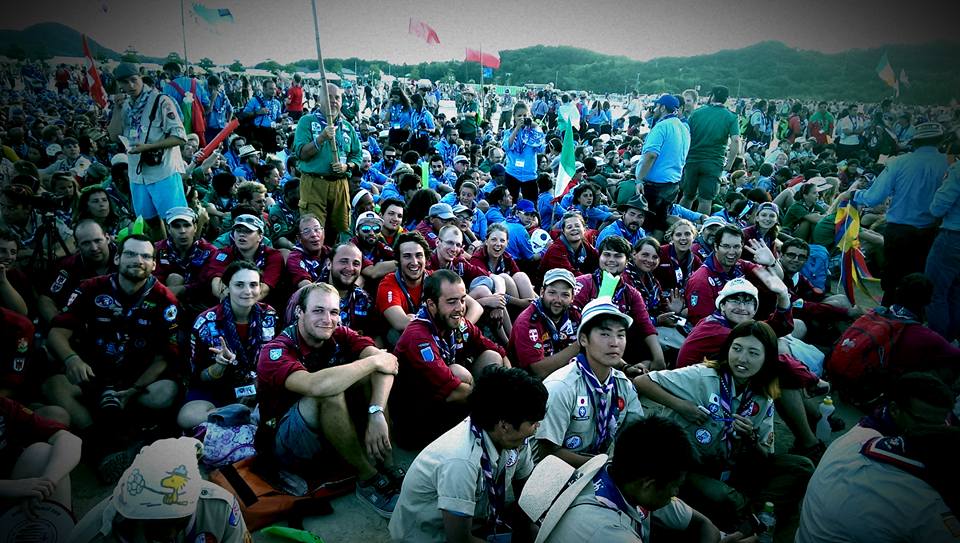 Why I vowed to visit every World Scout Jamboree
Basically each and every IST pays a good amount of money (if memory serves correctly about 1750 Euros) to work their asses off for two weeks Some people might believe that is just plain idiotic. As I wrote in a more recent Blog post, for me personally it has been worth every single cent. And like I promised myself back then, I made sure to attend the 24th WSJ in the US and am already pre-registered for the 25th WSJ in 2023 in South Korea. I tried to convey a glimpse of what a WSJ might look like. But as you might figure, pictures and words didn't do the whole event justice.
The trip down to Yamaguchi from Tokyo was already quite special. It is a 800 km long trip and to avoid an over-night stay I treated myself to a ticket for the famous Shinkansen bullet train. 320 km/h fast, it only took a good 4 hours for the trip to Shin-Yamaguchi. I had expected to meet some Scouts on the train already. As it turned out, the Shinkansen is mostly used by elderly locals, who probably have better things to do than spend days on trains.
Sponge-mode activated
Arriving at the train station in Yamaguchi the whole atmosphere changed immediately to "Jamboree-Feeling": Kind and welcoming Japanese IST showing you where the shuttle leaves from. On the bus, plenty of chit-chat between IST from Canada, Uruguay or Switzerland. Arriving at a Jamboree is always a very special feeling. Sponge-mode activates and I immediately start taking everything in. As a theme for the camp they chose "和 Wa: A Spirit of Unity" – a good description for said feeling.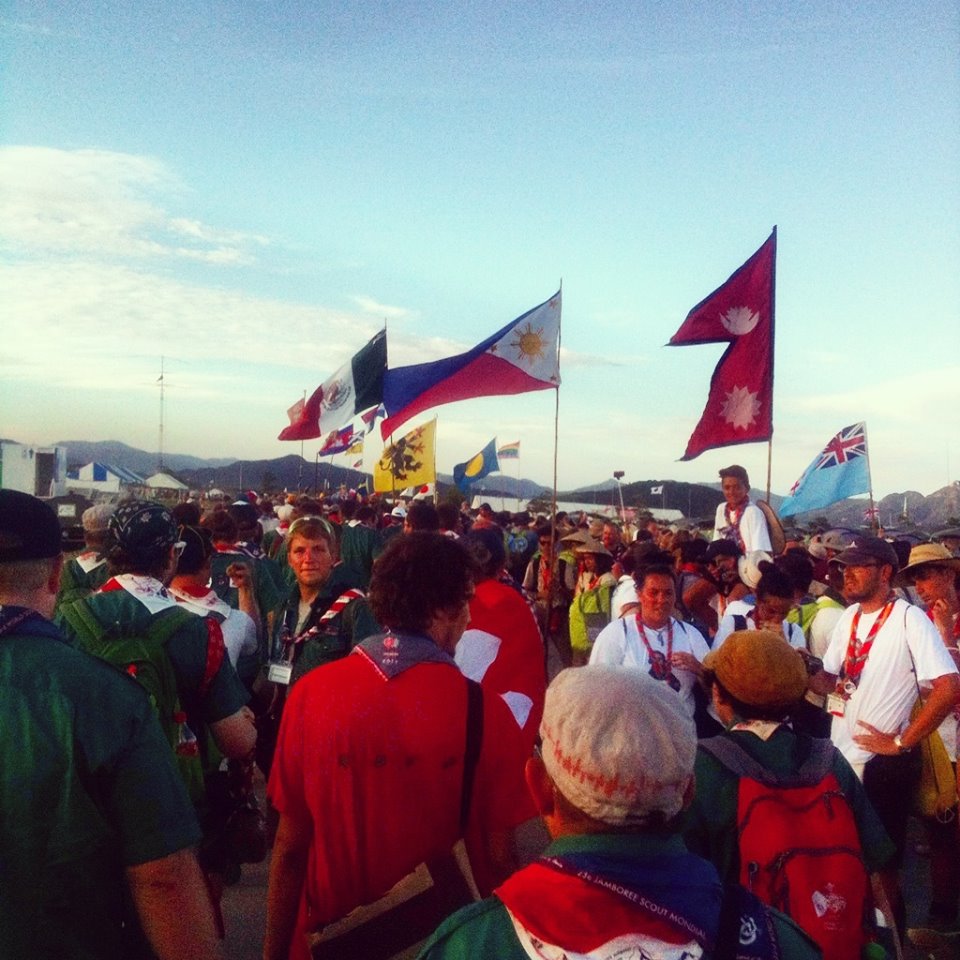 At the check-in I got the impression, that everything has been organized really well. So you would think. At breakfast the day after, the big disillusion: Lines for days across the whole parking lot. I decided to skip the "mandatory" introduction training at 9 am. Speaking of breakfast: Food choices at the WSJ were somewhat… monotonous. Every day we had the great choice of Cornflakes or bread with sausages and scrambled egg. And of course cabbage salad. For every single meal.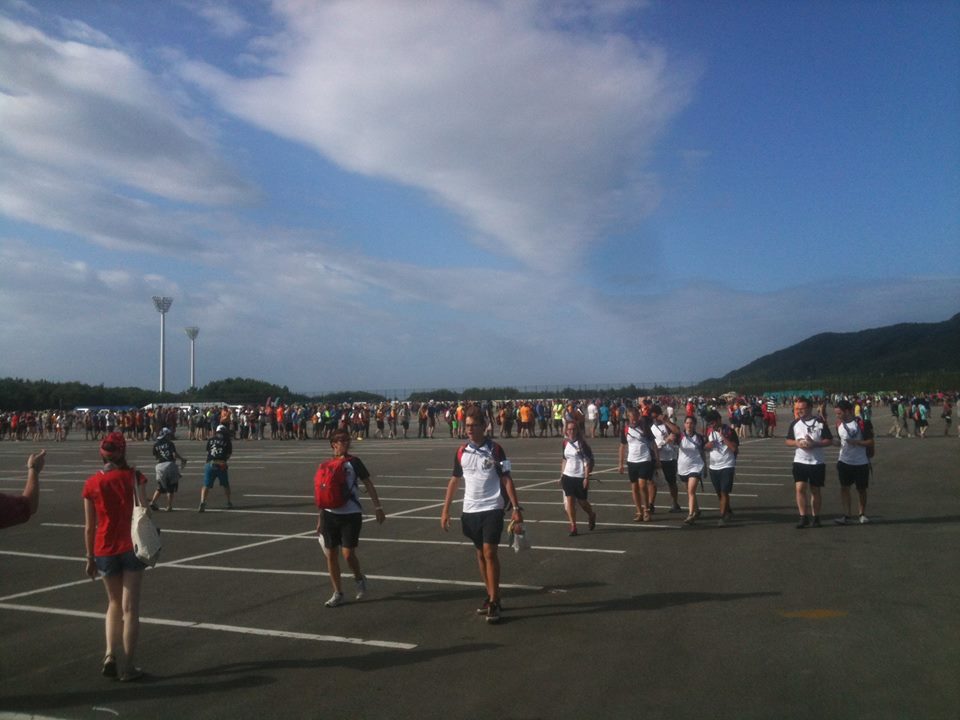 Coming through, not a Doctor!
After a while, I had to revise my first impression: The organization was definitely not adapted to "western" guests. Just a few examples: No soap dispensers at toilets, not even nearly enough trash cans across the camp site and in general it felt like there was an emphasis on too many "non-scoutish" elements like external food trucks who just replaced the famously infamous national food houses from different international contingents. But hey, different cultures and different approaches, right?
After skipping the first training, I was able to join the second session at 11 am. With the first big surprise. 90% of all IST find out about their allocated jobs long before arriving. Since I was allocated as a "Medical Professional" and am neither a medical doctor, a nurse nor a first-aid responder, I asked to be re-allocated. Me and hundreds of others. Chaos ensues.
Queuing up was the perfect opportunity to exchange the first few names with people and getting to know each other. Among them, folks from Lebanon and Chile, as well as a guy from Brazil and Portugal (big shoutout if anyone happens to read this). Funnily enough, these first connections remained the strongest ones throughout the WSJ and formed friendships even beyond that.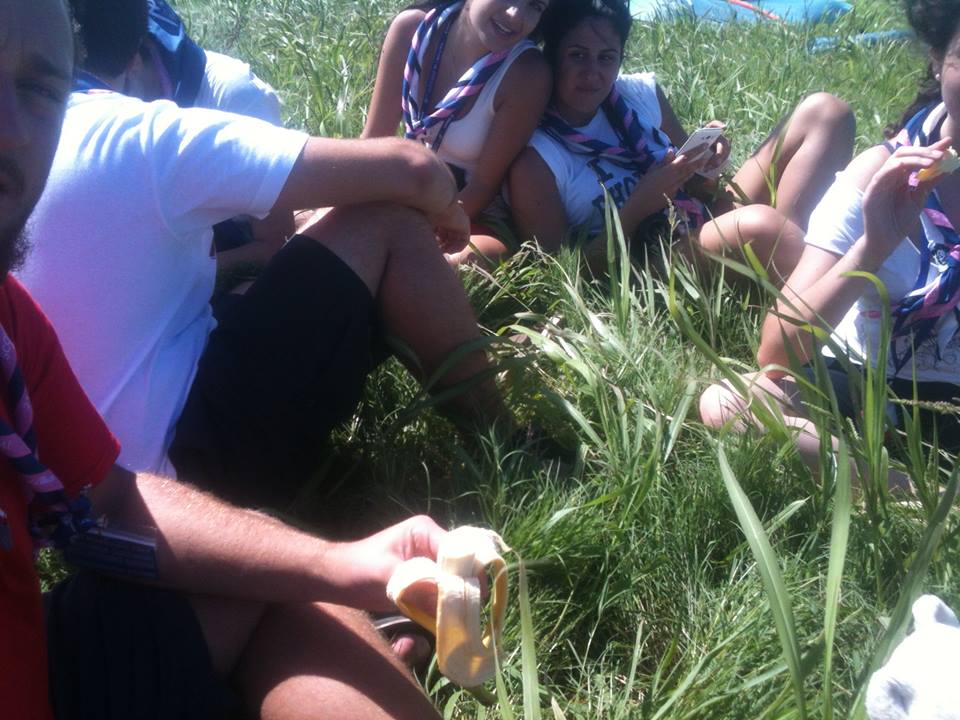 Siempre 7/11
Back to the reallocation: Since fortune favors the brave, I was designated to join the Safety-Department. In fact, one of the departments, that I had asked for. By being delayed, I had also missed the first Safety-training and instead spent the first "workday" with new friends from Lebanon and Brazil. And since the second training was scheduled around the same time as the opening ceremony, we were asked to just come back the next day. Thanks for nothing, Safety training.
Since there were no proper places for IST to hang out for an "after work social", we had to find a solution. And found one quite quickly nearby: The first important discovery was a nearby 7/11-supermarket. Another one was a tiny traditional "Izakaya"-bar – run by a very kind elederly Japanese lady (which is why we named it "Grandma's bar"). Through word by mouth, these places quickly became the most popular hangout-spots for nightly IST activities.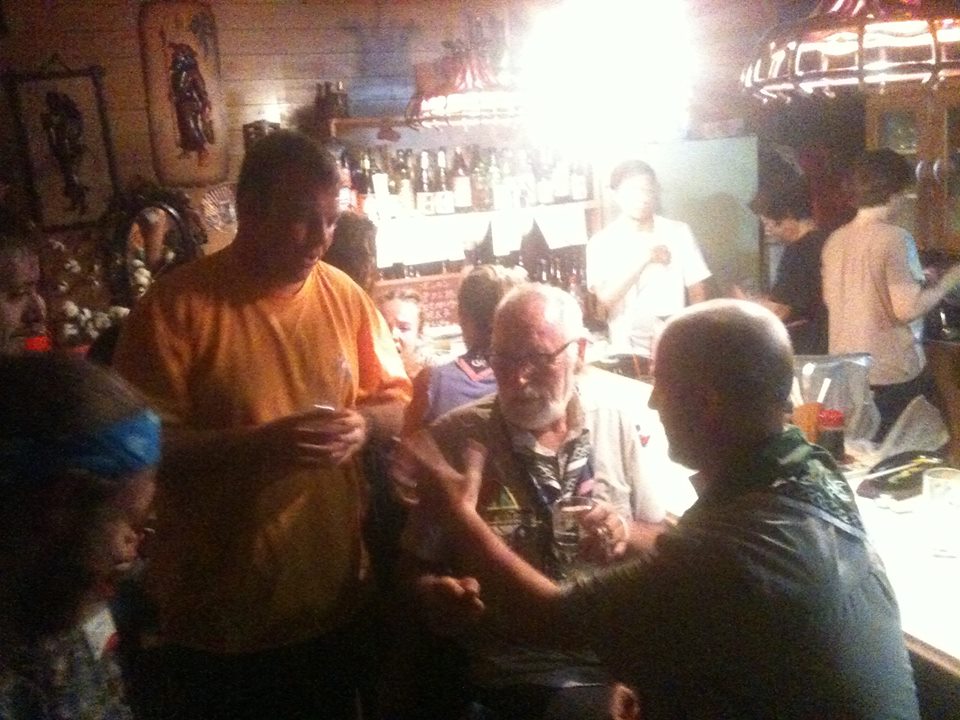 A well deserved after-work beer or Strong Zero became the daily routine. And soon up to 80 people started hanging out. Accompanied by guitars and singing. Of course. You gotta be able to have fun somewhere, right? Siempre 7/11!
Of NFC and light sabres
Well, back to Day 2: After having to wait for a couple of hours – what else? – I was allocated to a so-called "Gate patrol". On my team Jan from the Czech Republic, Frederik from Sweden, Leevi from Finland and Philip from the Philippines (no kidding!). We also got handed our work-schedule which looked like that: A – 6h day shift, B – 6h night shift, C – a day off, A, B, C, etc etc. Could have been worse than having every third day off. It actually ended up feeling more like every other day off because after night shifts we obviously had the day off too.
Our tasks were a little less exciting than our schedules. I would have preferred to be in a steward-patrol. The ladies and gents who get to run around in security bibs and tell the little participants off if they sleep in the wrong tent. Or don't sleep at all. (Wow, that sounds cringe, 7 years later. Who was I?)
As a gate-patrol, our job was to make sure that only people or cars with permits enter the campsite. To ensure that, the organization committee thought of something really "smart": Every gate was equipped with NFC-devices that forced people to check in and out with their Jamboree-IDs. Since check-in and check-out had different colors, our main job was to tell people where to swipe. At least we had traffic-light-sabres. Yes, you heard that correctly.
New EVERYTHING!
Naturally, that didn't stop the fun as well as the occasional stressful shift. For example, during the official Opening Ceremony that we had to watch/listen to from afar. The hour after it finished was good fun, though: Whoever came up with the plan to squeeze 8.000 people through one tiny bottleneck gate should be sewed. Even 7 years later, it makes me mad. Just safety things.
Another tricky part was to find some kind of sleeping rhythm with all the night shifts. So we just started to find some kind of rest after every single shift. Not an easy endeavor with 35° Celsius in the shade. Actually impossible in a tent. Luckily, there were a few lush forests on the campsite for my hammock. Other than sleep, some highlights were a Jamboree World Football Championship that I won as a guest squad member of Team UK. Excursions to the Rurikoki temple, one of the few five-storied pagodas in the world. A day at the Peace Memorial Museum in Hiroshima. World Food festival. Or just hanging out, meeting new people.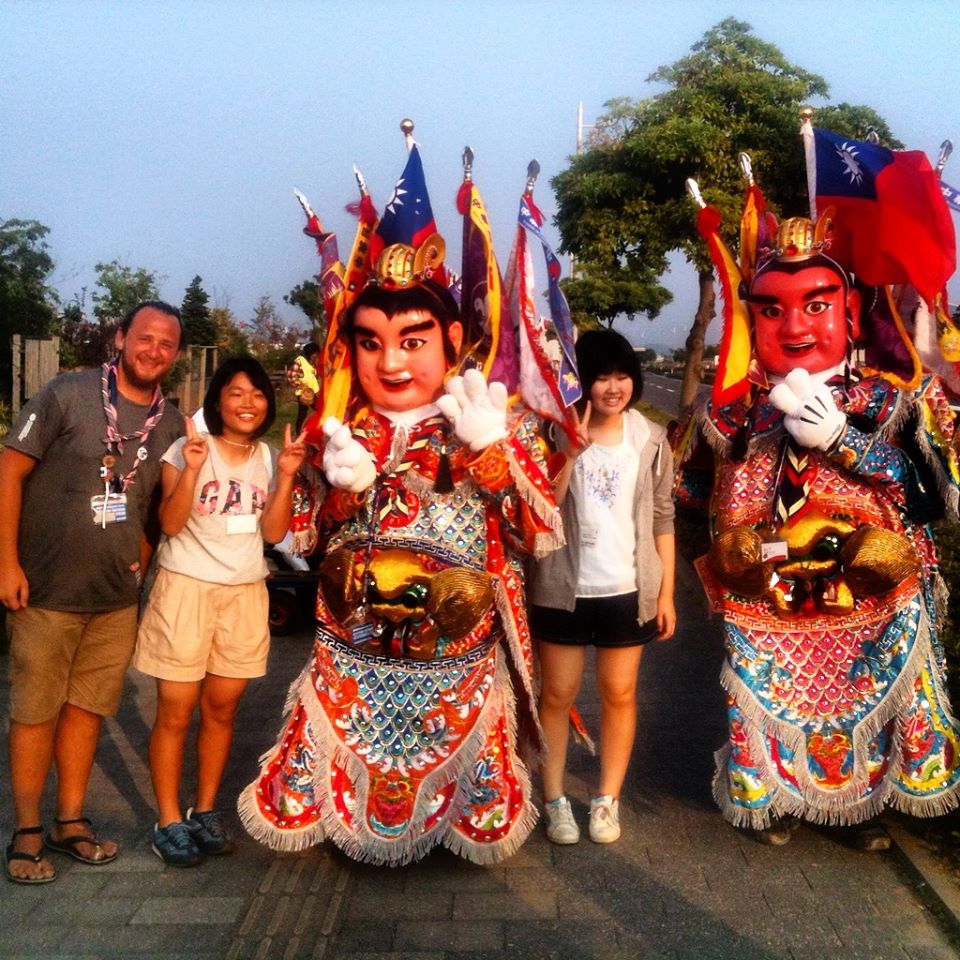 Getting to know new people. New cultures. New music. New friends. This is exactly what a World Scout Jamboree is about. I could stand at a gate for six hours straight and say Hi to people in Austria as well. But meeting people from all corners of the world is not as easy. This is why made sure to attend the WSJ in West Virginia and why I am attending the next WSJ in Sae Man Geum, South Korea.
Fun blast to the past, this one. Hope you new readers get a grasp of what being a Scout means. Hope you returnes still had some fun.
Until next time, kisses on the belly
Jakob